🕖 This event has passed!
This event ended on September 13, 2020
Moussaka, pastitsio, leg of lamb, dolmades, spanakopites, tiropites, and more! Great food, live music, and folk dancing – there's nothing like a Greek festival, and one of the best in NJ is the 43rd Annual 4-day Greek Festival at St. Demetrios Greek Orthodox Church in Union, NJ. There will be a full lineup of homemade Greek food & homemade desserts, full bar, plus live music, dancers, vendors, rides and games.
Admission is $2 and the ample parking is free.
A portion of the Admission will be donated to the Union Emergency Medical Unit.
September 10 6pm-10pm
September 11 5pm-12am
September 12 12pm-12am
September 13 12pm-7pm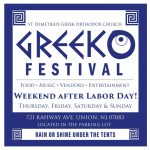 Hours
Thursday
6pm – 10pm
Friday
5pm – 12 midnight
Saturday
12 noon – 12 midnight
Sunday
12 noon – 7pm
Event Sites & Contact
Vendor Info
This event is looking for:
Email them at GrStDemetriosunion@hotmail.com to request an application.