Join us for a day of fun, food, and entertainment! Grab your favorite beer or wine, all the while supporting a great cause!
We invite you to the Beer and Wine Garden at Roselle's Annual Sweet & Savory Beer, Wine & Food Truck Festival.
The festival features several exciting things to enjoy in one day!!!!!
20+ mobile cuisine vendors, an artisan marketplace, and a exclusive beer and wine garden sponsored by Concrete Rose Project.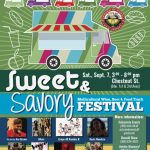 Hours
Saturday, Sept 7th: 3pm – 8pm
Event Sites & Contact
Please note that NJ Carnivals does not operate, nor is affiliated with any event listed on this website.
Directions