The Newark 24 Hour Soccer Festival will celebrate the "beautiful game" on the green in Military Park for a continuous soccer action that will pit residents, employees, students, and friends against each other 24 consecutive hours right in the middle of downtown Newark, NJ. Teams will rotate each hour while a cumulative score will be kept for the whole duration of the event. There will be a number of fun activities, games, giveaways, food trucks, and other amenities around our "soccer stadium" to make this one of the biggest events in downtown Newark this summer!
There will be numerous player appearances from the New York Red Bulls, clinics, giveaways, and other special events throughout the 24 hours as we look to celebrate the sport. This event is hosted by Fanteractive and hopes to draw thousands of players, spectators, and fans to the festivities to celebrate the "world's game" and the cultural diversity of the international city of Newark, NJ.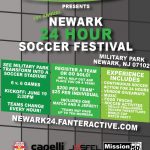 Hours
Wednesday, June 19th: 2:30pm – 12 midnight
Thursday, June 20th: 12 midnight – 2:30pm
Event Sites & Contact
Please note that NJ Carnivals does not operate, nor is affiliated with any event listed on this website.
Directions
Military Park, 51 Park Pl, Newark, NJ 07102
Get Directions
Other events in Essex County