Jersey City's 109th Annual Mount Carmel Feast will take place from Friday, July 12th through Tuesday, July 16th, located along Broadway near Our Lady of Mount Carmel Parish. The festival will have nightly entertainment, rides for kids, carnival games, nightly & Super 50/50 raffles, and plenty of delicious food!
On the feast day, July 16th, there will be a procession through the neighborhood around Our Lady of Mount Carmel Parish starting at 4pm with a spectacular fireworks display at 9:30pm.
Nightly entertainment will be the Jay Frias Band on Friday, Memories Music on Saturday, Epic Soul on Sunday, DJ music by Ulitimate Entertainment on Monday, and Everybody's Everything on Tuesday.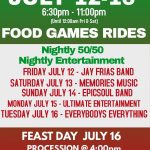 Hours
Nightly: 6:30pm – 11pm
* Open until midnight Friday & Saturday
Event Sites & Contact
Please note that NJ Carnivals does not operate, nor is affiliated with any event listed on this website.
Directions