The Highlands Business Partnership will host their 25th Annual Highlands Clam Fest from Thursday, August 1st, through Sunday, August 4th, located at Huddy Park in Highlands.
The four day festival features delicious food including the freshest seafood from several local restaurants, live music and DJ entertainment, a midway with exciting carnival rides and games for all ages, Clam Shucking Contest on Sunday at 2pm, beer/wine/sangria garden, raffles, craft vendors, and much more!
Admission and parking for the festival are free. Pay one Price ride bracelets, good for unlimited rides on the day of purchase, are $30 per bracelet/per night.
The festival will hold a spectacular fireworks display in commemoration of their 25th anniversary on Friday, August 2nd, at 9pm (rain date Saturday). Fireworks will be launched from Snug Harbor Beach.
See the Highlands Clam Fest's Facebook post for a complete schedule of activities and entertainment each night.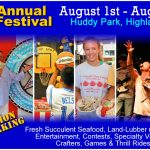 Please note that NJ Carnivals does not operate, nor is affiliated with any event listed on this website.
Directions
Huddy Park
Huddy Park, 325-, 329 Bay Ave, Highlands, NJ 07732
Get Directions