Happy anniversary to us! We are overjoyed to be bringing you the Fifth Annual Bayonne Hometown Fair on Bayonne's 150th year as a City, and it is all because of you and your patronage. Thanks are not enough for the support we have received from Mayor Davis and the City Council, and with their support the 2019 Fair will be held in June: Saturday, June 8th at 11am until 8pm, and Sunday, June 9th at 12 noon until 6pm on Broadway in the heart of town, between 21st Street and 25th Street.
The expanded beer garden will be back again by popular demand for our fair goers enjoyment. The Event will include Children's Rides, Games, Local Merchants, Specialty Vendors, Food Vendors, Non-profits, Musical entertainment and so much more!
We will also have 2 Stages again this year!
We had over 10,000 people attend in past events!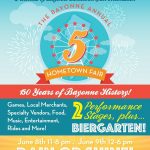 Hours
Saturday, June 8th: 11am – 8pm
Sunday, June 9th: 12 noon – 6pm
Admission
Event Sites & Contact
Please note that NJ Carnivals does not operate, nor is affiliated with any event listed on this website.
Directions