Moussaka, pastitsio, leg of lamb, dolmades, spanakopites, tiropites, and more! Great food, live music, and folk dancing – there's nothing like a Greek festival, and one of the best in NJ is the 42nd Annual 4-day Greek Festival at St. Demetrios Greek Orthodox Church in Union, NJ. There will be a full lineup of homemade Greek food & homemade desserts, full bar, plus live music, dancers, vendors, rides and games.
Admission is $2 and the ample parking is free.
A portion of the Admission will be donated to the Union Emergency Medical Unit.
September 5 6pm-10pm
September 6 5pm-12am
September 7 12pm-12am
September 8 12pm-7pm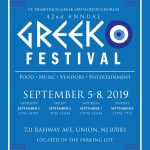 Hours
Thursday: 6pm – 10pm
Friday: 5pm – 12 midnight
Saturday: 12 noon – 12 midnight
Sunday: 12 noon – 7pm
Admission
Event Sites & Contact
Vendor Info
This event is looking for:
Email them at GrStDemetriosunion@hotmail.com to request an application!
Please note that NJ Carnivals does not operate, nor is affiliated with any event listed on this website.
Directions
721 Rahway Ave, Union, NJ 07083
Get Directions
Other events in Union County