Carnival 2018
Plans are well under way for the 2018 Carnival
June 12-16, 2018
For information please contact us at Carnival@icspotswood.com
Carnival Presale Special!
Need the perfect stocking stuffer this year?
We are excited to offer Carnival Unlimited Ride Bracelets good for Tuesday – Saturday!
Each bracelet is $100.00.
Click here for Flier
You are able to buy these on-this year. Please see the box below.
Please note there is a $4.00 processing fee for purchasing through the website via PayPal.
If you are interested in purchasing via check, please make check out to "ICS" and mail to:
Immaculate Conception Church
18 South Street
Spotswood, NJ 08884
Attn: Carnival Pre-Sale
This is a limited time offer – good until December 20th
An email confirmation will be sent no later then 12/22 confirming your pre-sale order.
Thank you.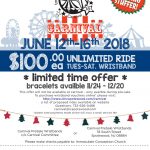 Hours
Tuesday - Thursday: 5pm - 10pm
Friday & Saturday: 5pm - 11pm
Admission
Free
Event Sites & Contact
Please note that NJ Carnivals does not operate nor is affiliated with any event listed on this website.
Extra 20% off
on Groupon deals with promo code
SAVE
(thru Friday!)
Directions