The 4th Annual Hudson County Fair will take place at James J. Braddock Park in North Bergen from Wednesday, September 26th through Columbus Day, October 8th. The two week long fair features a midway with carnival rides for all ages, delicious food and treats, games and prizes, live entertainment, petting zoo, raffles, and more.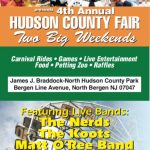 Hours
Monday – Friday: 6pm – 10pm
Saturdays & Sundays: 2pm – 10pm
Columbus Day, Oct 8th: 2pm – 10pm
Event Sites & Contact
Please note that NJ Carnivals does not operate, nor is affiliated with any event listed on this website.
Directions
James J. Braddock North Hudson County Park, 9003 Bergenline Ave, North Bergen, NJ 07047
Get Directions