Join us for our annual food festival. Authentic ethnic middle eastern food homemade food such as: hummus, tabouleh, shawarma, Arabic pastries, and much much more. 50/50 raffle, trip raffle, fun entertainment for children.
We hope to see you there!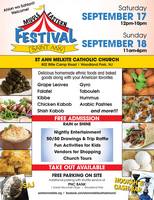 Hours
Saturday: 12 noon - 10pm
Sunday: 11am - 6pm
Admission
Free
Event Sites & Contact
Please note that NJ Carnivals does not operate, nor is affiliated with any event listed on this website.
Directions